Under the helm of Marie Holman Rao, Senior Vice President and Chief Creative Officer of Hudson's Bay Private Brand division, comes 424 Fifth (that's four-two-four), an exciting new private label by Lord & Taylor and Hudson's Bay. Marie has an impeccable reputation built on an illustrious career that includes a turn as chief design officer at New York & Co., creating & developing Body by Victoria's Secret and PINK for Victoria's Secret, leading the branding and design for Bigelow stores for Bath and Body Works and is also the former President of, a little shop you may have head of, Banana Republic... it goes on.
Named for the iconic Lord & Taylor Manhattan address, I fell in love with 424 Fifth after showing an exclusive segment on Steven & Chris (you can catch the episode here). We were all giddy in the backstage fashion room touching and ogling the full midi skirts (with pockets!), digital palm prints, and perfectly draped blouses. Imagine our excitement when we learned that the entire collection ranges between $29-$300! The week following taping, I was fortunate to meet Marie and her design team – a group of ultra chic ladies – at the Trump hotel and had the opportunity to get an inside scoop on the collection, business strategy and what's to come.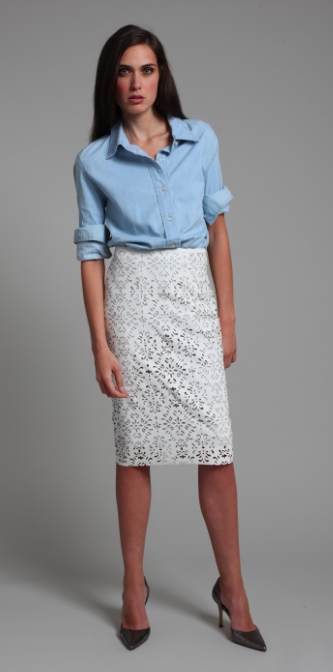 Why launch this brand?
The whole reason was for Lord & Taylor and The Hudson's Bay to have an to have an exclusive, private label brand. And the thought process was to elevate that brand, not make it a commodity – we are also the group that does Lord & Taylor cashmere and commodity products – but elevate it just above commodity products into a whole well-thought out line that was fashion forward but accessible in terms of price point. It would be an umbrella fashion idea for both brands, Hudson's Bay and Lord & Taylor.
How is it differentiated from Lord & Taylor?
The aesthetic is different from anything that is out there because it is a combination of a lot of things that we all love: beautiful fabric, the idea of silhouette – what is the silhouette of the season and how can we take that silhouette and make it different. This season was very architectural, so we found this fabulous silk pile and said 'wouldn't this make a great skirt, it just stands by itself'; it's very architectural but at the same time very pretty. An architectural idea that anyone can wear because it's so pretty. So when you mix the two of them you get a winner and that's what we try to do in terms of thinking about the customer; what is it that she doesn't have in her closet and what is it that she doesn't [even] know that she wants. Every piece that we do, we try to make it emotional.
Let's talk about the fabric...
We really thought about fabric. Every single one of us is so into it and we have a fabric researcher who is so into it. She gets so excited, she so believes in it, we want to give the best value for the best price. She travels the world, she's just coming back from overseas, she's been searching high and low for next spring. She's a girl on a mission.
About that phrase ["And the Glamour Continues..."
It's my catchphrase. When I leave work every day, and we had a killer days, there's stuff all around, fabric, we're sweating; I'll leave the office, I put my purse on my arm, and I walk out and say 'and the glamour continues'... Everyone laughed and the team put it on a sweater, I said 'well, no one's going to know what that means other than us' but as it turns out everyone loves the phrase.
What's to come?
A 424 shoe line in September. The same kind of quality, attention to detail, modern colour and colour mixes at really great prices. Once again, so affordable. There's a great range: from flats and boots, to pumps and heel booties. And we're just getting started, the next line will be even better & bigger.
There's a lot of different product extensions that we can do. For fall, for example, we're doing cold weather accessories; so hats, gloves, scarves, blankets, the whole bit. So you can have your whole 424 look. And if that goes well, great, we'll just keep adding. We're trying to focus on the most important things of the season; so we won't just say 'we're doing jewellery', it's more about supporting the clothes; what enhances the clothing. Rather just buying a random selection of bracelets, if we're doing a bracelet then it's got to be a key piece that we are really going to use and go back to the clothing. It should be statement but it should be meaningful.
A few words to describe the brand...
I'm going to use Barney's old statement, because I love it; they don't use it anymore, so I'm going to co-op it [laughs] 'taste, luxury, humour'. I've always loved that phrase. There are no better words to describe what we want to do. Modern, pretty, whimsical.
How will your previous experience come into play with 424 Fifth?
A general learning and knowledge, first of all, building a brand and what it takes and being true to what a brand needs. Having a mission statement, having visuals that everyone can follow so that everyone is on the same page. Not veering from what those visuals are, and what that brand stands for, communicating that to everybody and then communicating that to the world – the world meaning the department store: this is appropriate, that's not appropriate; we don't want to see 25 things on the rack, we want to see 12, that kind of education. But, I think more than anything, it's the big lesson I've learned: that you can have the biggest idea in the world but you need the best team to execute it. So it's never being afraid to hire the best people and hire people who have qualities that you don't have. I want to hire people who are smarter than I am, why wouldn't I! There are certain things that I'm good at and there are certain things people excel at that I'm just okay at. So I want that person. Every single person has to bring something to the table and the team's got to gel. My job is not so much about teaching people, it's to mentor people to be able to do what I do and if that could be my legacy, I'd be so happy with that.